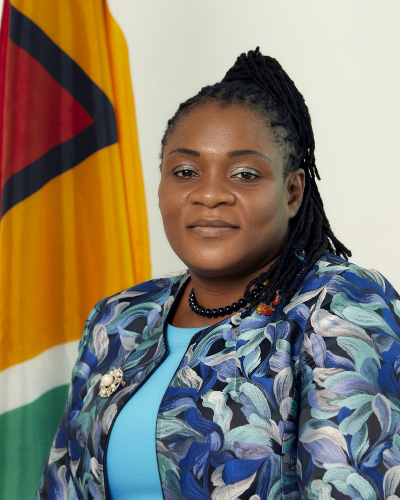 General Secretary Coretta Mc Donald
November 18 ,2020
Following positive COVID-19 tests among some teachers and students, the Guyana Teachers' Union (GTU) has called on the Ministry of Education to close schools in Bartica for 14 days to allow for isolation and quarantine where needed.
The ministry last week reopened schools across the country for in-class lessons for CXC-level students.
The GTU yesterday released a video statement urging the ministry to "act wisely" as it concerns the resumption of face-to-face interactions at the schools in Bartica and those with dorms across the country where positive COVID-19 cases have been recorded.
General Secretary Coretta Mc Donald told this newspaper that the union is requesting that the schools be closed until there is certainty that infected persons are not among those who are in classes.
In its statement, the union said that it is deeply concerned about the situation in Bartica, where teachers and students at two main secondary schools have tested positive for the virus since the re-opening of school.
It added that it is aware that the Ministry of Health and the Ministry of Education have tested the students but that given the possibility that these students may have been around their families and other students, all schools should be closed for 14 days to facilitate isolation and quarantining as well as needed sanitisation.
"When we don't do what we have to do, then other sectors are going to feel the brunt of it. When our students and our parents and our teachers are flooding the health centres, do we have the capacity to take that off?" McDonald in an invited comment to this newspaper. "All we are saying is that we need to be wise and act that way. Make wise decisions so that we won't have to say "we are sorry" or "if we had known" or "if we had done this" or "we should not have done that," she said.
McDonald added that the GTU is asking for all dorm schools to be closed and schools have contact tracing done along with further testing and close monitoring of the situation. She also noted that non-dorm schools may also have possible cases. In these instances, she said that if schools are open then there needs to be proper systems in place and if students are testing positive then schools should be closed, sanitised and have persons get tested before face-to-face classes are resumed.
Also concerned about intermingling, McDonald said that while some persons are isolated, there are other who might have been in contact with the positive cases but are not showing signs or symptoms.
Education Minister Priya Manickchand, who yesterday announced that teachers and students from two schools in Region Seven have tested positive for COVID-19, said that schools have been following stringent guidelines advised by the Ministry of Health.
In a Facebook post, Manickchand confirmed that on Monday evening her ministry was informed of five teachers, two ancillary staff and six students in Region Seven testing positive for the virus.
Manickchand told this newspaper that when the dorm-resident students arrived, they were tested and while there was a "small window" where persons could have intermingled with each other, they were constantly reminded not to. She further said that persons are expected to follow protocols to ensure they are not being infected. Manickchand added that as the batches of students arrived, they were not allowed to intermingle in order to ensure each batch was properly catered for.
Manickchand then said that the union is asking for something that is not medically required because if persons test positive the protocol is to have those persons isolate while contact tracing and quarantining of persons who were in contact with them is done. She said that the Health Ministry has not advised that an entire building be shut down.
Meanwhile, Manickchand yesterday also announced that teachers and students in Region Nine received negative results after testing. They were tested after rapid antibody tests yielded positive results.
The total number of dorm-resident students who have tested positive for COVID-19 stands at 18. Testing commenced last week and is expected to continue until all students who attend dormitory schools have been tested.