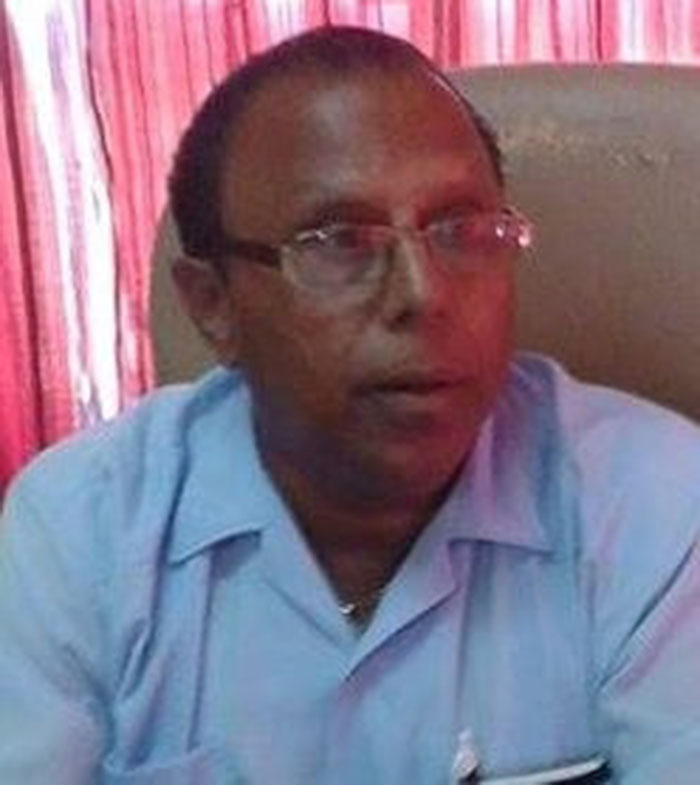 Veerasammy Ramayya
September 16, 2021
Community activist Veerasammy Ramayya yesterday resigned as the Coordinator for President Irfaan Ali's Rapid Res-ponse Taskforce in Region Six stating that he had been insulted by a senior government official and that he was unable to work with regional officials who seemed to have an issue with him reporting directly to the President.
Ramayya explained that he was officially brought on board by Vice President Bharrat Jagdeo on February 15. His resignation which was dispatched to both President Ali and Vice President Jagdeo will take effect from October 1.
According to him, he had experienced a lot of issues and encounters with regional officials who seemingly had an issue with him reporting directly to the President. He opined that a lot of regional issues are not being brought to the President's attention. "They want me to raise it with them first and that they can cover it down" but after he refused to do this he said he became the subject of attacks.
However, the last straw for him was an interaction with a senior government official yesterday where he felt insulted. He noted that based on his work he needed a driver and secretary and was given the go-ahead by Regional Chair-man, David Armogan to secure the same but the government official told him that no permission was given for this.
He said he and the official had this exchange after he requested to be reimbursed for "all expenses since January." However, the official responded that he had already spoken to Armogan and the Regional Executive Officer, Narindra Persaud to resolve the issue with Ramayya and requested that Ramayya stop "harassing" him.
Additionally, Ramayya said that the official told him that they had not received a single report from him despite incurring costs on his behalf. Further, the official reminded Ramayya that his contract required him to report to Armogan and the Office of the President.
Ramayya yesterday told Stabroek News that he believes that he has not been well treated considering some of his workdays consisted of 10 – 12 hours per day.
He continued, "I can't take it what they are doing in this region. (An official) accused me of going and discuss government problems on TV and Facebook."
Ramayya has had a series of interviews on Facebook and television programmes detailing the issue of farmers not receiving flood relief grants despite sustaining huge losses.
In his defence, he said that he thought it necessary to bring the farmers' issues to light so that those in authority could become aware of what is going on the ground. "I am not bringing the government down, I want to see transparency and accountability exist", Ramayya said as he charged that the "dirty game" is ongoing in Region Six.
He said, that regionally "a lot of things need to be done but too much deceit is going on… Too much wrong things is being done in this region" and that the services are not reaching the residents who are in need of them. He pointed to issues at the regional facilities, more so, New Amsterdam Public Hospital and the Police Force which he highlighted to President Ali. Ramayya said that this triggered anger from the regional persons because he had done such without informing them.
In one of Ramayya's recent television programmes, he stressed that he was being attacked by PPP/C activists and others for what they believe were attempts to bring down the present government. On the same programme Ramayya had said that he believes President Ali, whom he has known for many years now, has a genuine interest in improving the welfare of his citizens, and while he was raising certain issues it was not to attack the government but to ensure that they remain on the right path.
Rammayya also pointed out, that he was under attack for meeting with the relatives of the Crabwood Creek Hindu Priest who was fatally beaten in front of his home recently as regional persons believed that this was not an issue he should have highlighted.
REO
In August 2016, Ramayya resigned as the Regional Executive Officer (REO) of Region Six under the then APNU+AFC government citing "unbearable" circumstances as the reason.
Then Ramayya had been at loggerheads with the Regional Administration for months with accusations of him not functioning adequately in his position. He also had issues with the then Chief Executive Officer of the New Amsterdam Hospital Colin Bynoe.
In September 2016, following his resignation, Ramayya rejected suggestions that his performance had been substandard and he charged that AFC leaders Khemraj Ramjattan and Moses Nagamootoo had failed the people.
Ramayya had said that his troubles as REO began after he refused to carry out tasks which he deemed wrong. He had highlighted that most issues developed after he refused to sign off on the tendering process for certain goods and services in the region. He had also alleged that his former party's men interfered in the work of the Regional Tender Board.
Last evening, Ramayya told Stabroek News that he will continue on his path to represent the interests of the residents of Region Six and the country at large.