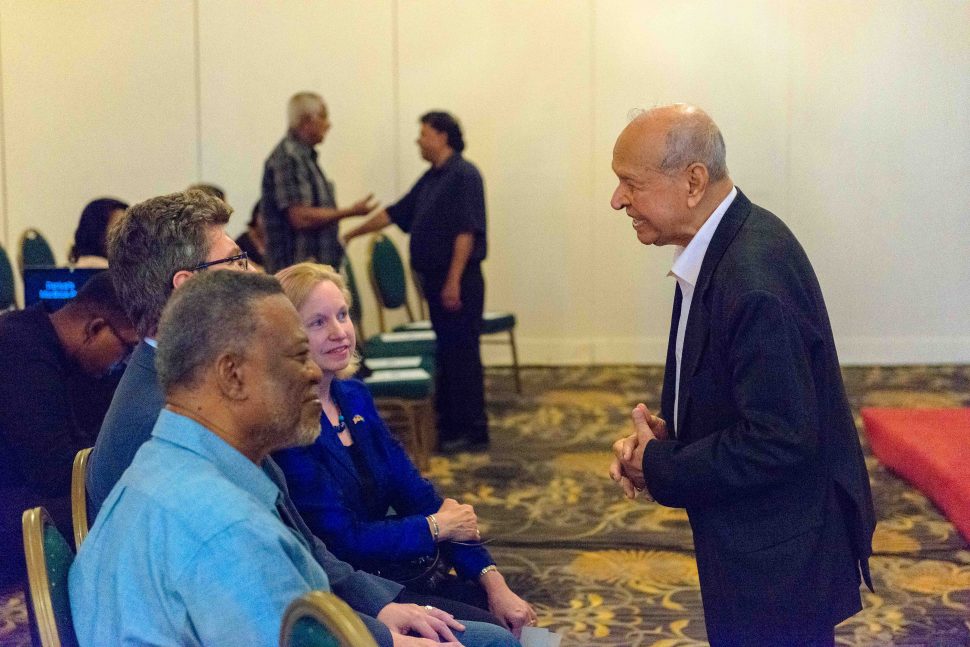 Yesu Persaud (at right) speaking with British High Commissioner to Guyana Gregory Quinn and other attendees in March 2019 at the screening event held at the Pegasus Hotel for "The Man from El Dorado," a new documentary film on his life.
January 17 ,2022
Pioneering businessman Yesu Persaud has passed away, according to President Irfaan Ali.
On his Facebook page this morning, Ali said: "Guyana has lost an outstanding soul in Dr. Yesu Persaud, a true son of the soil. It is with great sadness I learnt, moments ago, about his passing. To his family, friends, management and staff of DDL and Demerara Bank, and the wider Private sector , I join with you in prayers at this time. May his soul find eternal peace".
Yesterday, sources close to Persaud's family had reported that he was unresponsive to treatment and had been discharged from the hospital where he had been under care.
Persaud, who was 93, would be considered as the leading businessman of his era. He was associated for decades with Demerara Distillers Limited and its predecessor.
He was also the founder of Guyana's first indigenous bank, Demerara Bank Limited where he retained a major role up to his passing.
Persaud, a chartered accountant, was also the brains behind the Institute of Private Enterprise Development (IPED) which has provided loans to thousands of small entrepreneurs over the years.
In June last year, IPED unveiled a bust of Persaud who served the institution from October 1985 to January 2018.
A release from IPED at the time said that Persaud was a master entrepreneur who dedicated his life to recreating and nurturing the small and micro business sector in Guyana. His vision led to the creation of IPED and his leadership ensured improved livelihoods and sustainable micro and small enterprises for over 4000 entrepreneurs across Guyana, the release stated.
In his remarks at the ceremony, Persaud said "Let me say thank you very much to the Board of Directors for setting up this event today, I am very honoured. Over the years I have done many things in my life and since my return to Guyana one of my major accomplishments was rallying for the business community and challenging governments for the rights of business people and that is something that should never be forgotten."
He added then "I have had the honour of working with some of the greatest minds in Guyana to help build our business sector, ensuring that businesses were able to realize their potential and become what they are today. The work was never easy, but it was needed, so that all Guyanese, no matter their geographical location could live better lives and be able to provide for their families. We must continue on our upward trajectory especially as Guyana is on the brink of economic prosperity."
He was also well-known for his philanthropic work and played a key role in the activities of the Indian Commemoration Trust.
Persaud was also an ardent advocate for free and fair elections in the 90s and this saw his removal from the then Seals and Packaging Industries Limited during the Hoyte administration.
In October last year, the $245m Dr Yesu Persaud Clinical Education Centre was inaugurated at the Georgetown Public Hospital.
A statement from the Office of the President said that the Centre was a public-private partnership that saw the contribution of $30m from the government and $215m from the Dr Yesu Persaud Foundation.
In his brief remarks at that event, Persaud said that his motto in life has always been "helping those who can't help themselves…There is nothing like doing things and helping those who can't," he said.
Persaud never grew tired of relating how he had started out in life as a rat catcher on a sugar estate and progressively moved up the rungs.
During his many years at DDL, Persaud was a fervent advocate of diversification of the business and plunged into various areas some successful and some not so successful.
At Persaud's 90th birthday celebrations in 2018, Major General (R'td) Joe Singh was one of those who spoke.
Analysing Persaud's life on the sugar estate, Singh said that he humbled himself without losing his dignity to earn the admiration and respect of his functional superiors who then presented him with other opportunities and higher responsibilities. "He understood the concept of justice, fair play, the dignity of labour, respect for diversity of ethnicity, religion and culture and he actively embraced and practiced these values in his interpersonal relations and in his management styles," he noted.
After seven years in a variety of jobs on the Diamond Estate, Persaud decided he had to review his life and his situation.
He realized he was one of 3,000 workers on the estate most of whom would slave away for the rest of their lives and he had to escape from "the tentacles of cane sugar." Opportunities were limited in Guyana since the colour bar was a major feature of the employment in Georgetown by the larger firms and he decided to work and study in the United Kingdom and make a new life for his family.
At age 27, he was "fully grounded in the estate system, its culture and dynamics," Singh said, "and he had already benefited from his parental upbringing and the attention and support from the extended family. He took his education seriously. His friendship extended to other ethnic groups. He was unafraid of diverse placement opportunities on the estate in small family-run businesses and in the large and complex military base at Atkinson Field. He spoke up for what he knew was right and demonstrated at an early age his interest in a system of approach to management which favoured people-centred human resources style of interpersonal relations."
In London and away from the family structure, he became depressed and wanted to return to British Guiana, but remembered the teachings of Buddha, to wit: "The greatest of conquest is the conquest of self. If a man conquers a trillion things in the world, he is no conqueror unless he conquers the self within him."
Many of his generation would have given up and
considered their station in life bound to the estate and rose to the highest station possible, that of field supervisor, Singh said, but instead Persaud seized every opportunity that presented itself to learn and mastered his trade or portfolio of responsibilities to reach the zenith of business.
Persaud's personal example of integrity, forthrightness, lack of an ostentatious lifestyle and deficiency of arrogance, Singh said, "makes him a revered exemplar of all those who had an opportunity to interact with him and benefited from his mentoring, counselling and guidance."