AFC to officially end seven-year marriage with APNU in December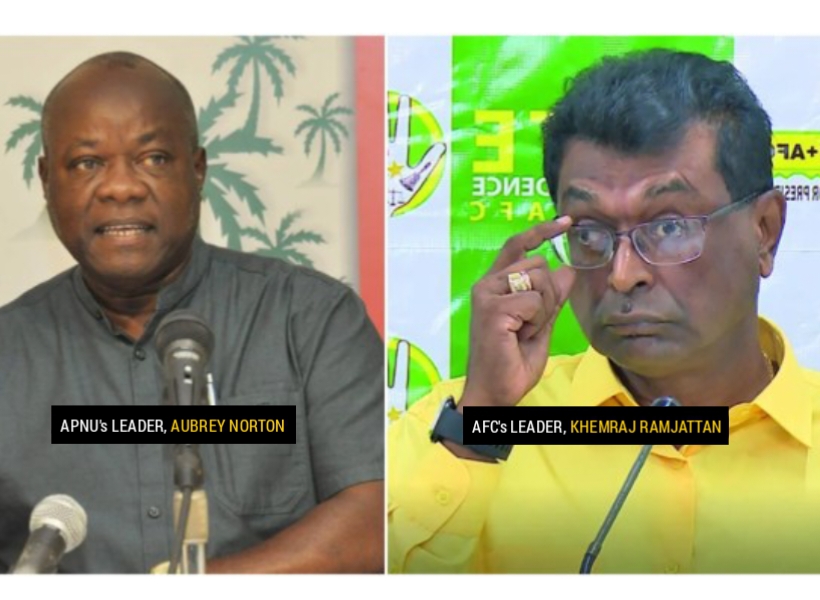 The Alliance for Change (AFC) announced today that it is ending its seven-year marriage with the A Partnership for National Unity (APNU). The divorce takes effect on December 31, 2022.
The announcement was made during the AFC's weekly press conference. AFC Leader oKhemraj Ramjattan told the press that the decision is one of good faith, as the party intends to regroup and restrategize for the 2025 elections.
Khemraj explained that the party made its decision at the party's annual leadership conference to separate from APNU. He noted that while their political partnership has ended, the two will still remain allies in the national assembly.
"We will still have cordial working relations with APNU because of course we are a joint party at the parliamentary level and even for fighting for the general causes such as a clean voters' lis,t we are certainly going to work along," Ramjattan said.
Significantly, the AFC's decision to part ways with its coalition partners was one that sprung from issues from within the coalition. Ramjattan was asked whether these issues played a pivotal role in the party calling it quits with APNU.
"We have had our problems and I don't want to make all the problems public…" Ramjattan said. Executive Member Cathy Hughes then said, "I think it has been ongoing and maybe up to about three months ago at a formal meeting that these issues were put on the table…" Hughes said that the AFC, even while a part of the coalition, remained an independent party.
She added, "We are at a point where we are going back to our roots, and going back to who we are and what we stand for…"
While the party has made its decision internally, Leader of the Opposition and head of APNU Aubrey Norton has not been officially notified of the exit. The party said that in the coming days, an official correspondence will be sent to Norton.
Back in 2015 on Valentine's Day, the AFC and APNU signed the Cummingsburg Accord which saw their official political marriage. The two then contested the 2015 elections and won against the People's Progressive Party Civic. The two parties, as part of their agreement, shared several ministerial offices and even those at the municipal and regional levels.