Cold-Fighting Chicken Noodle Soup Recipe
The most soothing, comforting, cozy soup for when you're not feeling great.
Damn Delicious --- Chungah Rhee --- Source -- https://getpocket.com/explore/...source=pocket-newtab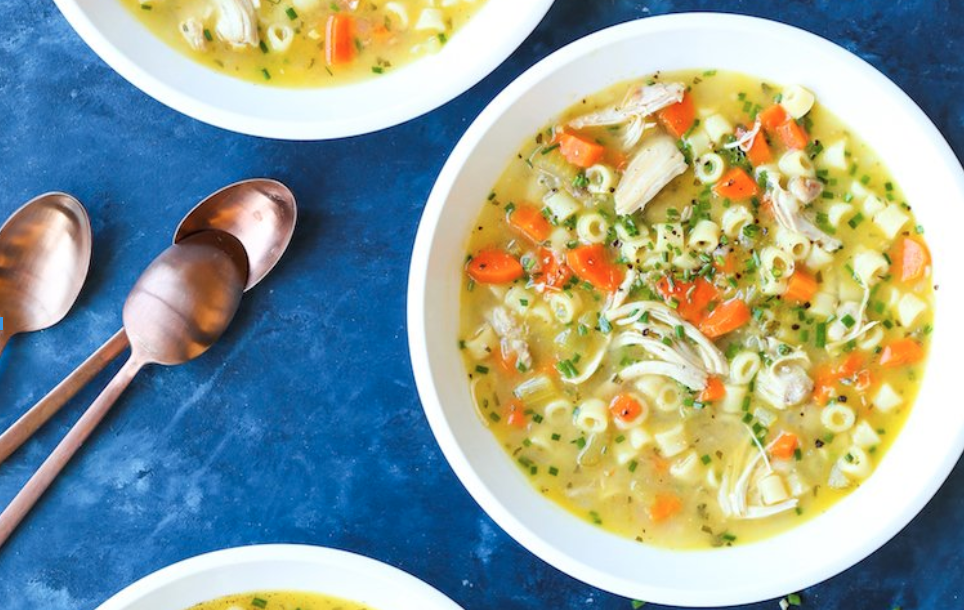 Once, I spent an awesome time in San Francisco watching the Dodgers versus Giants, and I ate so many Gilroy garlic fries and clam chowders in a bread bowl.
But as amazing as their food was at AT&T park, San Francisco is also super cold (compared to us weenies with our LA weather), and I went home with one of the worst colds ever.
When that sick, I only want a giant bowl of this soup. It's the only thing that is makes me feel better. And the garlic/lemon/ginger/lemongrass here is doing absolute wonders.
So when you need it, be sure to stay warm and have this soup on standby! It will be a god-send!
Cold Fighting Chicken Noodle Soup
Yield: 4-6 servings
Prep time: 20 minutes
Cook time: 30 minutes
Total time: 50 minutes
Ingredients:
1 tablespoon olive oil
1 onion, diced
3 carrots, peeled and diced
2 celery ribs, diced
3 cloves garlic, minced
1 tablespoon freshly grated ginger
1 tablespoon minced lemongrass
1 tablespoon chopped fresh thyme leaves
1 tablespoon chopped fresh rosemary
5 cups chicken stock
2 bay leaves
1 pound boneless, skinless chicken thighs
3/4 cup uncooked ditalini pasta
Juice of 1 lemon
Kosher salt and freshly ground black pepper, to taste
2 tablespoons chopped fresh chives
Directions:
Heat 1 tablespoon olive oil in a large stockpot or Dutch oven over medium heat. Add onion, carrots and celery. Cook, stirring occasionally, until tender, about 3-4 minutes. Stir in garlic, ginger, lemongrass, thyme and rosemary until fragrant, about 1-2 minutes.
Whisk in chicken stock, bay leaves and 1 cup water; bring to a boil. Add chicken; reduce heat and simmer. Cook, covered, until the chicken is cooked through, about 10-12 minutes. Remove chicken and shred, using two forks; set aside.
Stir in pasta and cook until tender, about 8-10 minutes.
Stir in chicken and lemon juice; season with salt and pepper, to taste.
Serve immediately, garnished with chives, if desired.
Did you Make This Recipe?
Tag @damn_delicious on Instagram and hashtag it #damndelicious.
This post originally appeared on Damn Delicious and was published September 30, 2018. This article is republished here with permission.