June 12 ,2022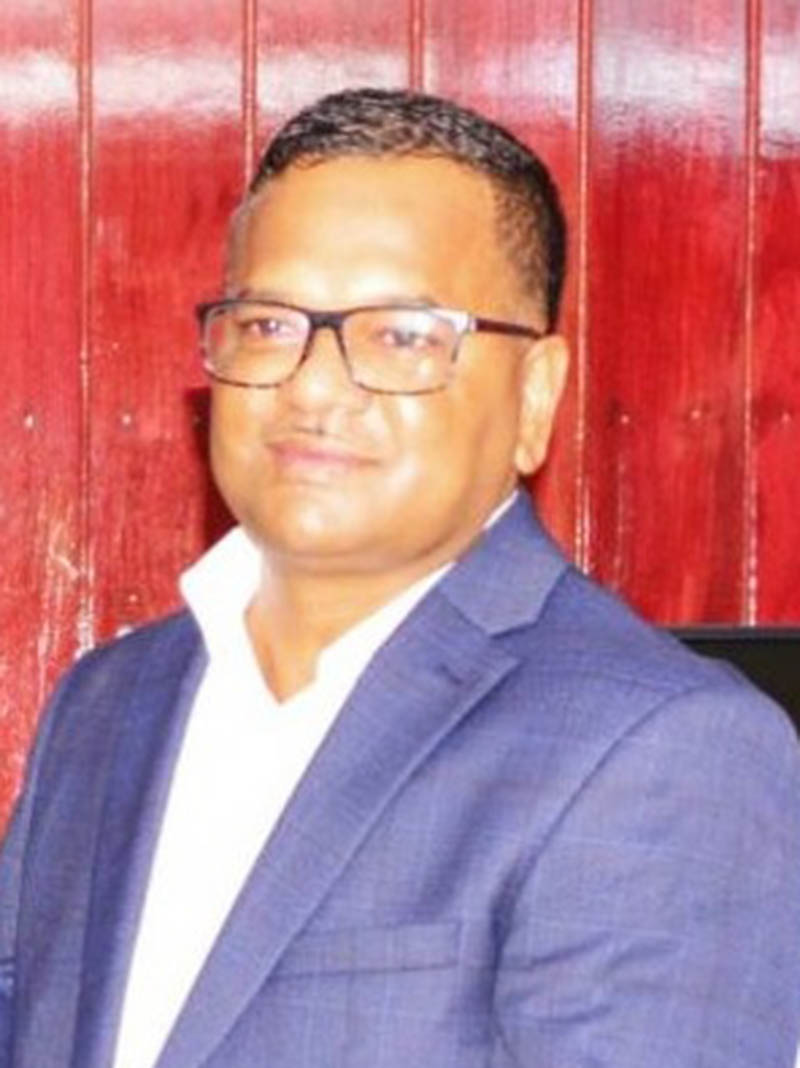 Tamesh Jagmohan
Prominent gold dealer and businessman Tamesh Jagmohan says that a letter dispatched to Minister of Home Affairs Robeson Benn asking that the authorities conduct an investigation of his business so that a "clean bill of health" could be issued had been done before.
The unorthodox move has raised eyebrows as Benn would have no mandate in initiating such a process and the authorities would be woefully ill-prepared to conduct such an examination of Jagmohan's sprawling business interests, which lately include quarrying under the current administration.
Regulatory sources told this newspaper that "Mr. Jagmohan's request is unusual" and "writing to the police for an investigation to give a business public clearance is not required for compliance for gold or any other trading".
Questions have been raised, in particular, about Jagmohan's gold operations after the Royal Canadian Mint stopped taking his metal as questions were raised about the possibility that it was contaminated with smuggled Venezuelan ore.
In February of this year, Jagmohan wrote to Benn and copied the letter to the Guyana Police Force asking that an investigation be untaken of his business and on completion for him to be given a clean bill of health.
"Dear Minister, as you are aware, I am a licenced gold dealer and exporter operating in this capacity for over two decades. I pride myself operating professionally during this time and having contributed significantly to Guyana's economy remitting billions in royalties and taxes to the consolidated fund annually. The Gold exporting business is a very competitive one and I have been singled out for systematic character assassination by unknown persons," the letter to Benn states.
"Because of the sensitive nature of my business which involved the movement of gold or money, I am fearful that these malicious attacks may have a detrimental effect on my business and the economy of Guyana. With this in mind, I would appreciate if the state and its external agencies and authorities could initiate a thorough examination of me and my business so that I could be issued with a "clean bill of health". This will assist me greatly to officially dispel any malice directed towards me," it continued.
When Acting Commissioner of Police Clifton Hicken was contacted on Friday, he told the Sunday Stabroek that police clearances are given by the Criminal Investigation Department of the GPF.
Hicken said that if Jagmohan had made his request to the Minister, then the Minister would be the best person to ask of the status. As from his end, Hicken said, "I don't know about that…I am not investigating anything or anyone."
Efforts to contact Benn were futile as several calls to his mobile number went unanswered.
Leaked
Jagmohan believes that the letter to Benn was leaked and said that it was not the first time he had written for similar clearance as it was a common practice over the years.
"The letter is authentic but it was leaked…we would do that to get a clean bill of health to clear me up," he said.
"We were specific in what we wanted. Every couple of years, we would write, in keeping with international compliance. We chose to do that to add to our profile," he added.
There has been no public reportage of any such previous request to the authorities by Jagmohan.
He told the Sunday Stabroek that being successful in his business, "there is a lot of haters" and some competitors who are jealous spew libelous and derogatory things about him and his establishment.
The police investigation and report, he said, would give the public transparent insight into his operations and let the business community and prospective businesses know that his operations are above Board.
The request to Benn and the police would appear even more inappropriate as Jagmohan and his brother donated vehicles to the police force last month – just weeks after he had applied for the clearance probe.
Jagmohan says the gifting of the vehicles should not be seen as coercing the law enforcers in any way since the recipients are police in Essequibo and the investigation and clearance would be directed from Georgetown.
"Being a private sector member and my brother also, we thought it best to take advantage of the concessional access and help. We had attended a meeting where it was highlighted that there was a lot of crime in Essequibo and the police needed vehicles. We are from Essequibo, too, so we heeded the call to assist in the region," he noted.
"It was specific to the region to help in its crime fight. Region 2 police don't have anything to do with clearance…," he added.
Last month, ten new vehicles were handed over to the police force by Jagmohan and his brother, Suresh Jagmohan.
Then, both the Minister of Home Affairs and acting Police Commissioner were present and had thanked the businessmen for their donation.
"We have to respond to domestic violence, assaults, robberies… we have to respond to those issues with alacrity…we should have no problem now that we have 10 or more new vehicles and I think the (Police) Commissioner is talking about bringing up a few more pickups to go in the rough areas…so we can't call up the police stations and hear that it does not have vehicles or the vehicle don't have gas", Benn had warned.
Both the government and the police force have been criticised in the past for accepting donations from the private sector which could carry the appearance of seeking favours.
Minerals Grievance Platform
Last year, Stabroek News reported that the Guyana Gold Board (GGB) had been investigating allegations made to the international Minerals Grievance Platform (MGP) that the local large-scale gold trader is connected to illegally sourced Venezuelan gold, a claim Jagmohan's El Dorado Trading has vehemently denied.
Following the allegation, the Royal Canadian Mint (RCM) told the Gold Board that it had suspended the intake of El Dorado gold from the GGB until further notice.
El Dorado has rejected the allegations, which were filed with the MGP, saying that there is not "an iota or ounce of truth to the claims" and that the investigations will not only vindicate it, but show how easy it is for not only a company's name to be tarnished, but a country's entire sector put in fear of blacklisting because of "haters or fear of competition."
El Dorado Trading is a Guyana Gold Board client while the GGB is a customer of RCM. As such, complaints from the Mint have to be registered with the Gold Board here.
It has been noted that El Dorado Trading is the only local company which sells gold to the Gold Board that is then supplied to the Royal Canadian Mint.
Jagmoghan had told this newspaper that he was not worried and that anyone could file a grievance but that when such action is taken, it not only puts a business establishment under a negative spotlight but the country could be impacted.
He said he would hope that when the investigation is completed and his company's name is cleared, a lesson would be learned by the person or persons who filed the grievance about the implications it could have.
There has been no word on the outcome of this investigation.
Citing the sensitivity of the issue as well as a confidentiality clause that governs executive meetings, Bank of Guyana Governor and current Chairman of the Guyana Gold Board, Dr Gobind Ganga had in May of last year declined to comment on allegations made by former GGB Chairman GHK Lall that he [Ganga] had in 2019 said that there was evidence of gold smuggling from Venezuela which could have led to blacklisting of this country.
However, Ganga said that Lall's assertions do not paint a true picture of the issues then but he doesn't want to be "caught up" in a back and forth with the former Chairman.
He was asked about a probe by the Royal Canadian Mint that a supplier here sold smuggled gold from Venezuela. He said that the supplier in question, Jagmohan, had not sold gold to the Gold Board since that point.
"Since then, the Gold Board has not purchased any gold from Mr. Jagmohan… I think it was in September to now, no gold from him," he said.
Asked if the issue with Jagmohan was cleared up, he replied, "I think the issue was not just that, but other issues."
However, this newspaper understands that Guyana no longer sells to RCM and instead supplies other brokers.
The local Financial Intelligence Unit (FIU) had recommended in 2019 that a high-level team be established to conduct a comprehensive review of the trading of gold, amid concerns that Venezuelan gold was filtering into the local market in 2019 and causing the Guyana dollar to depreciate.
Both current and former Attorneys General, Anil Nandlall and Basil Williams had said last year that they were unaware of the FIU's recommendation for a high-level probe of gold trading. There has since been no word of any probe of the trade.
One regulatory agency official told this newspaper that "issues like gold smuggling are serious allegations for a country's image" and that they were not aware of "any legitimate cases here in Guyana".