May 10, 2022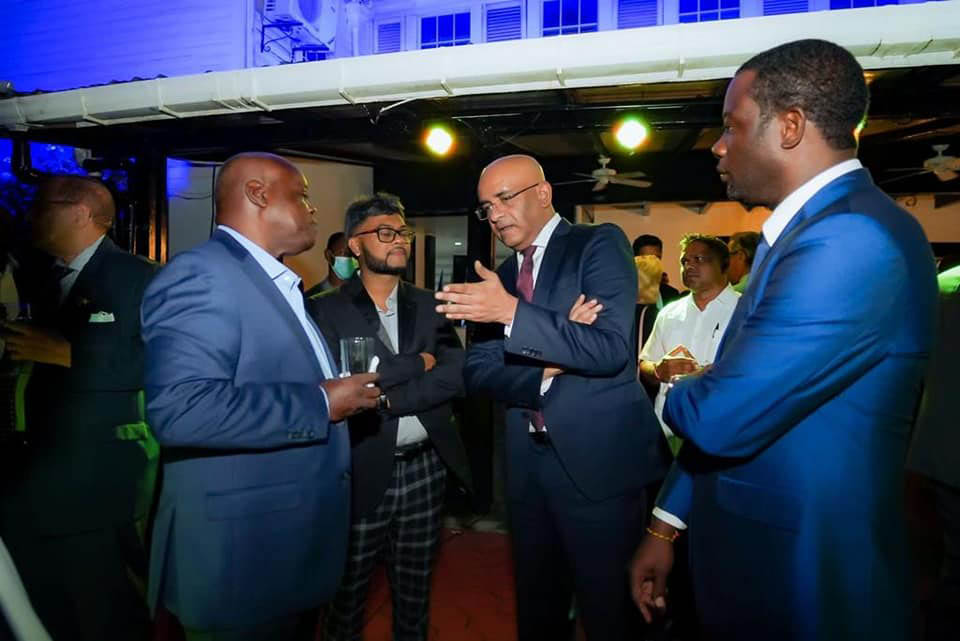 Vice-President Bharrat Jagdeo (second from right) and Opposition Leader Aubrey Norton (fourth from right) in discussion at the Europe Day observance hosted by the European Union at the Georgetown Club yesterday. Also in this photo are Minister of Foreign Affairs Hugh Todd (right) and Georgetown Mayor Ubraj Narine (third from right) (Photo from Vice-President Bharrat Jagdeo's Facebook page)
Vice President, Bharrat Jagdeo and Opposition Leader, George Norton were engaged in a heated discussion last night at a Europe Day reception which was hosted by the European Union at Georgetown Club, Camp Street.
Among the issues ventilated were the 2020 General and Regional elections, the controversial Statements of Poll and corruption.
Norton challenged Jagdeo to a public debate. Jagdeo agreed to the debate on the condition that Norton present the APNU+AFC's Statements of Poll (SOPs).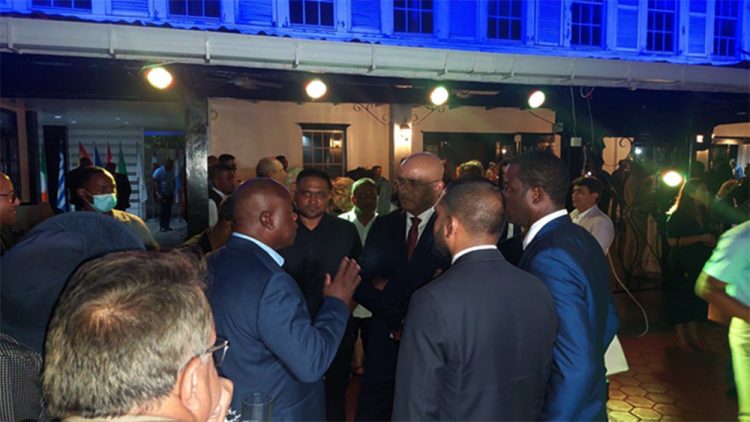 Vice President, Bharrat Jagdeo and Opposition Leader, George Norton engaged in a discussion at the Georgetown Club last night.
However, Norton disagreed and said he can only present the SOPs after the debate concludes. "If you accept the observation report, I will bring the Statements of Poll," Norton said.
Jagdeo questioned which observation report he was referring to. "Which observation report? From the OAS (the Organization of American States), the European Union? From the Carter Center? From Caricom?" Jagdeo asked.
Without directly answering the question, Norton told Jagdeo "…whenever you are ready I am prepare to debate you in public".
The Opposition Leader also told Jagdeo that he is in possession of SOPs which show that the APNU+AFC coalition won the 2020 elections.
APNU+AFC never presented their SOPs to the public and did their utmost to prevent the Guyana Elections Commission from releasing theirs. The only party to release its SOPs was the PPP/C and these were later found to largely match the statements of recount which were then used to declare the results of the election in the party's favour.
Norton was accompanied at the reception by Chairman of Region Four, Daniel Seeram and the Mayor of Georgetown, Ubraj Narine.
A number of Government Ministers including Minister of Foreign Affairs, Hugh Todd; Minister of Local Government and Regional Development, Nigel Dharamlall and Minister of Public Affairs, Sonia Parag surrounded Jagdeo as the conversation between the two leaders escalated.
Other spectators included members of the Diplomatic Corps.